Over the years I've hiked a lot of miles here in Lake County, and admired a lot of habitats and vistas.  We volunteers get to go into areas not open to the general public. Still, though, I have my favorite haunts and usually know exactly where my field sketches and reference photos are from.  Not so, in this case.  Going through my sketches I liked the scene quite a lot but had no idea where it was from.  When this painting was completed I merely titled it "Season's End" and moved on.  I can tell you this is a classic Illinois landscape.  Your standing on a ridge which I would guess is a moraine, looking out at a stream meandering through a low wetland area.
So recently we've had a "new" forest preserve open.  Actually it was acquired back in 2001, but hasn't been open to the public because it contained a man-made lake that was not in good condition and there was a question of what best to do with it.  After much discussion among the biologists it was decided to remove the dam, drain the lake, and re-meander the stream.  It has been a long process and even now isn't entirely complete.  Well, I've been eager to get in to see it so the other day I grabbed my dog and off we went.  We enjoyed walking the trail around a pretty little pond, and drank in the distant view of very old oaks up on a ridge.  Then, as I came around a bend in the trail, I stopped in my tracks. There was my scene, laid out before me!  I couldn't believe it.  Kind of an odd feeling, that, to find yourself standing in a spot you clearly stood before nearly 20 years ago.  The three trees are still there, a little bit bigger is all.  Come spring it will be fun to see what it looks like in that season.
And now, I can give my painting its proper name: "Ethel's Woods".
Incidentally, the story of Ethel is an inspiring one.
HISTORY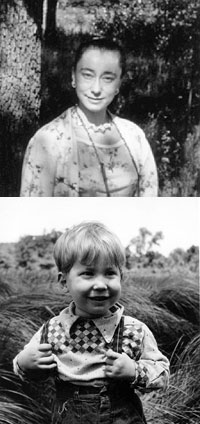 Ethel and Frank Untermyer, 1958.
Our story begins in 1957, with Ethel Untermyer and her 3-year-old son Frank who wanted to go exploring in the woods.
New to Lake County, Ethel and her young family had just moved from nearby Chicago and she was unfamiliar with the area. When Ethel asked a friend where the nearest forest preserve was, she was stunned to hear that Lake County had none. After all, Cook County already had 47,000 acres protected.
So the next day, she organized a countywide referendum to create the Lake County Forest Preserve District. It wasn't an easy undertaking, but like any person who makes a difference, Ethel didn't let early disappointments defeat her.
Just four people came to Ethel's first meeting. But she wasn't deterred. She started driving her Studebaker throughout the county, frequently on dirt roads. She spoke with groups and garnered support. She sought out local leaders and got a quick education in politics. Spurred to action by this inspired 33-year-old homemaker, other concerned citizens rose to the challenge and joined in the effort.
In those days, Lake County's population hadn't even reached 300,000, but people were already shaking their heads about the loss of open space and the fast pace of development. The first organization to endorse the referendum was the Lake County Farm Bureau. Unique to Illinois, forest preserve districts were designed to protect large natural areas. Education and recreation would be important offerings but primarily within that natural context.
By election day in November 1958, a groundswell of public support had emerged. The referendum passed with an overwhelming 60 percent of votes. Twenty days later, the Lake County Forest Preserve District was legally established in circuit court. An advisory committee of citizens was formed, with Ethel as its chair.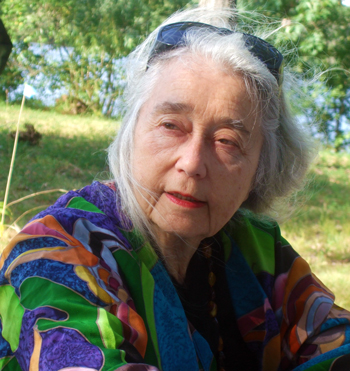 Ethel Untermyer, 1925–2009.
And in 1961, four years after her son Frank asked for a place to explore, the first preserve in Lake County was created: Van Patten Woods in Wadsworth.
Ethel's Legacy
Ethel's Woods Forest Preserve, a high-quality natural area in Antioch, is named in honor of her efforts to initiate the founding of the Lake County Forest Preserves. Ethel's Woods is a lasting symbol of the difference one person can make for the benefit of many.
Ethel Untermyer passed away in September 2009.